Get Involved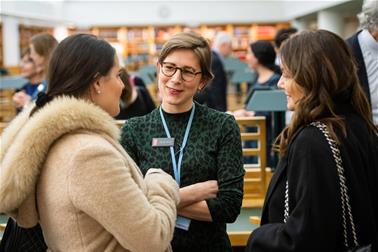 The knowledge and ideas in our extraordinary collection help shape the world. By supporting the Library, you have the opportunity to bring this wealth of knowledge to life and secure it for the next generation.
Whether you join our Patrons' Programme, leave a gift in your will or give a regular donation, you will be opening up a world of discovery for all.
Philanthropy at the Library
Major gifts to the Library are truly transformational. Philanthropic investment has the power to open up our collection, bringing it to the forefront of ground breaking research and putting it at the centre of life-changing discoveries.
With philanthropy at the heart of the Library, we run a series of exclusive events with our expert curators as well as leaders from the field to discuss and debate the ever-changing philanthropic landscape.
For a taste of what you can expect, take a look at this article written by one of our previous speakers, best-selling author Paul Vallely, on how philanthropy can be traced back through precious items in our collection for over 2,500 years.
If you'd like to know about future events in our philanthropy series please get in touch.
2,500 years of philanthropy: what comes next? by Paul Vallely