The-St-Cuthbert-Gospel
The St Cuthbert Gospel is one of the earliest surviving manuscripts to have been created in Britain. This small, fragile pocket book was created for personal use, not for religious ceremony, and is adorned with a beautiful red leather goatskin binding. The condition of this binding is exceptional and immediately sets the book apart as one of the most important books in the world.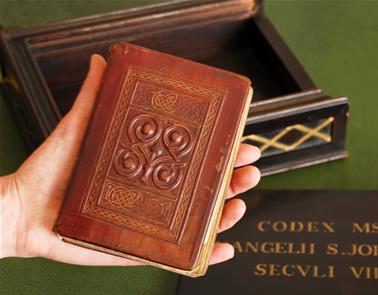 It has an intimate connection with St Cuthbert, having been apparently buried with him on Lindisfarne in 698. As the monks of Holy Island fled the Vikings during the succeeding centuries, they travelled around the North East, and the Gospel was discovered in 1104 when St Cuthbert's body was translated to his shrine at Durham Cathedral.
We now have an opportunity to acquire this remarkable example of our nation's heritage and are working to raise the purchase price of £9m. With your help, the St Cuthbert Gospel will be an outstanding addition to the renowned collections of the British Library, benefiting scholars, researchers and visitors alike.
We will be able to display it in a range of fascinating contexts, including bibles, decorative bindings, and manuscripts connected with the North-East. Ownership will allow us to conserve the Gospel and address its fragility in the Library's internationally-renowned Centre for Conservation. This will enable us to display it for all to see, both on site and online, and we will be working with partners in Durham to bring it to audiences in the North East.
Learn more about the Gospel's relevance from curator Claire Breay on BBC here.
Hear Dame Lynne Brindley, Chief Executive of the British Library, talk about the campaign to acquire the St Cuthbert Gospel.
Donate now and help us acquire the St Cuthbert Gospel for the nation.