The Mervyn Peake archive
Thanks to the generous support of The Art Fund, Friends of the British Library, Friends of the National Libraries and numerous individual donors, the British Library has been able to acquire the archive of English modernist writer and artist, Mervyn Peake.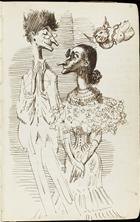 Peake is best known as the author of Gormenghast, for which he won the Heinemann Prize for Literature in 1951. His uniquely visual archive arrived at the British Library in 28 containers, one of which was Peake's own suitcase.
The collection comprises correspondence with notable figures such as Graham Greene, Laurence Olivier and Dylan Thomas, 39 autograph Gormenghast notebooks, a complete set of his own drawings for Lewis Carroll's Alice Through the Looking Glass and Alice in Wonderland, as well as other stories, war poems, radio plays and nonsense verses.
A selection of Peake's Alice drawings is currently on display in the Sir John Ritblat Treasures Gallery, bringing a new perspective to this much-loved tale and captivating our visitors.