Shakespeare in Ten Acts

Shakespeare in Ten Acts
15 April 2016 - 6 September 2016
The British Library's forthcoming major exhibition marks the 400 years since Shakespeare's death. At the heart of th exhibition will be ten defining performances that chart one man's remarkable rise from Elizabethan playwright to contemporary global icon.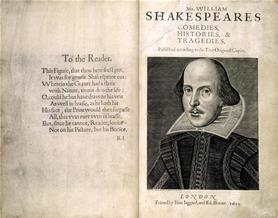 Visitors will be immersed in ten richly imagined theatrical worlds,that draw on costumes,props, music and film excerpts to preset the historical and contemporary relevance of each play. Together, the ten performances will illustrate how Shakespeare achived iconic status as his playes were taken by different cultures and both genders to break barriers on stage.
The exibition will feature original items from Shakespeare's day including two of only six known authentic signatures from Shakespeare's hand, the only surviving play-script from Shakespeare's pen and rare printed editions including the First Folio, all from the Library's own Collections.