Unlock King George III's historical maps and views of London and the South East
"The personal map and views collection of George III is one of the world's most important historical resources. The collection was brought together at a time when Britain's military, commercial and imperial might was nearing its peak. "
Peter Barber
Head of Map Collections
Help us unlock one of the most important map and view collections in the world
King George III was fascinated with geography. He gathered an incredible collection of 60,000 maps and views, from inherited royal maps, commissioned new works, state papers, gifts, acquisitions to items obtained by espionage during wars and conflicts. This collection became the King's window on the world and its people, and was stored in the room next to where he slept in Buckingham House. Gifted to the nation after his death, his precious collection has never been fully catalogued and is therefore not as well-known or well-used as it deserves.
Our ambition is to make his collection available to everyone who wishes to see it by cataloguing, conserving and digitally photographing every piece so that this incredible gift to the nation is available online.
Please consider supporting a key stage of this project to open up the London and South East items in his collection, comprising around 2,000 maps and views. We need to raise £100,000 to fully catalogue, conserve and digitise this part of the collection. A great deal of the nation's history can be explored from these items and your donation will make all the difference. Your gift will help catalogue these maps and views in their entirety for the first time, and make these items available online.
How you can help
Please support our project and make a donation today.
£26 could pay for enough of the special tissue paper we need to repair one damaged map parchment
£37 would pay for the time of an expert researcher to undertake research and provide provenance of unknown items
£83 would pay for the full process of cataloguing, conserving and digitising one map
You may also like to find out more about our project to unlock all 60,000 items from King George III's collection.
£
8,359
raised of £100,000 target
We need to raise £100,000 to digitise all the London and South East maps and views in King George III's collection. Please consider making a donation today to help us achieve this.
Read our curator's insights into the collection on our Maps and Views blog. Here are some of the featured items for your viewing pleasure (click on the image to see a larger version).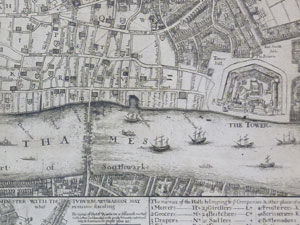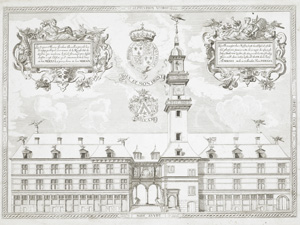 Left: Hollar, An exact Map representing the condition of the late famous and flourishing City of London as it lyeth in its ruins...1667. Maps K. Top. 20.18
Right: Frans Hogenberg, [Exterior of the first Royal Exchange seen from Cornhill], ca. 1570. Maps K. Top. 24.11-2-2.
Left: S.H. Grimm, A drawn View of the Distribution of His Majesty's Maundy by the Sub-Almoner, in the Chapel Royal at Whitehall, 1773. Maps K. Top. 26.5-r
Right: Augustus Charles Pugin, engraved by J. Hill, View of the Excavated Ground for Highgate Archway, 1812. Maps K. Top. 30.1-1-g.

Thamesis Descriptio by Robert Adams (1588). Maps K. Top. 6.17.
Left: View of the Town of Brightelmstone, (Brighton: P. Thomas, 1779). Maps K. Top. 42.14
Right: A...Plan of the Cities of London and Westminster & the Borough of Southwark...by Elizabeth Foster (1752). Maps K.Top. 20.34.
Left: Map of the Parish of Saint Pancras...by J. Tompson (1804). Maps K.Top. 28.16-a
Right: Thomas Milne's land-use map of London of 1800. Maps K. Top. 6.95
This is just a small fraction of what is contained in the collection and there are many more hidden treasures. Please help unlock them all for the benefit of researchers, scholars and map-lovers everywhere by making a donation today.