Patrons' Programme - Exclusive Events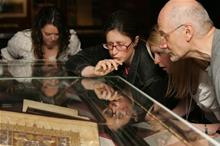 We are delighted to invite British Library Patrons to attend exclusive events throughout the year. These range from curator-led private tours of our exhibitions, to intimate show and tells of handpicked items from the Library's collections and to visits to renowned arts and cultural organisations across London.

All the events listed below are by invitation only. For those wishing to join the Patrons' Programme, you can do so online here or for more information, please contact Abby Wilson on patrons@bl.uk or 020 7418 7331.
Current Patrons can reserve their place for any of the events below by contacting Abby.

Calendar of Events
Spring - Summer 2013

Patrons' Private Tour
Mughal India: Art, Culture and Empire
Thursday 24 January 2013

Malini Roy, the Library's Curator of Visual Arts will lead Patrons and guests on a special early morning tour of our Mughal India: Art, Culture and Empire exhibition. Enjoy a chance to view this popular exhibition before it opens to the public for the day in the company of one of our expert curators.
Philatelic Collections: Stamping a good impression
Monday 11 February 2013
Awarded the MBE in the Queen's Birthday Honours 2012, the British Library's David Beech presides over the national philatelic collections. Join David for an evening exploring some of the items from the Library's remarkable world Collection.
Visit to the Courtauld Insititute of Art
Tuesday 16 April

British Library Patrons have been invited to the Courtauld for an exclusive curator-led tour of the Becoming Picasso: Paris 1901 exhibition.
Opening reception and private view of Propaganda: Power and Persuasion
Thursday 16 May
This new exhibition from the British Library will bring together items from throughout the Library's Collections. Items will be featrures from times of war and peace and from across the world. With postcards from the First and Second World Wars to speeches by Barack Obama, this exhibtion will challenge visitors to view the information around them in a new light.
An opening reception will be followed by a private view of the exhibition.
Please note that all events are subject to change.