Learning through exhibitions and events
Our exhibitions allow us to showcase some of the Library's most impressive items from our collections.
Created to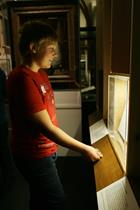 engage and inspire everyone, the exhibitions also offer students and teachers a programme of workshops and events to deepen knowledge.
You can help support the future of our learning programme by making a donation today. If you would like to discuss how your charitable trust can get involved in the Library's
learning programme, please
contact us.
Alongside the exhibition we offer a learning programme aimed at teachers, projects for pupils at risk of exclusion and many family events and activities.
Workshops programme
Library workshops support and enrich the curriculum and help young people develop skills in visual literacy, critical thinking, source-based learning and research. These range from hands-on, creative sessions for primary schoolchildren to 'A' level study days led with talks from expert curators.
'Young Researchers'
Our special educational projects offer a number of young people at risk of exclusion from school the chance to explore our collection first-hand. Participants are encouraged to conduct research, take part in discussions and meet the experts. The sessions help build young people's confidence and support and develop their knowledge and skills outside of the formal learning environment.

Online tools for teachers
In support of each exhibition, we offer innovative and interactive web tools to offer a deeper knowledge of the exhibition theme. The resources combine access to unique collection items, inspiration for critical thinking and lesson plans for teachers.