Young Patrons
The Wilde Membership is our exclusive new social network for young patrons in their 20s and 30s. Join now.
Discover

The British Library has over 150 million items and they're not all books. We have ephemera, decorated papers, maps, sound recordings, paintings, and much more. If you see 5 items each day, it would take you over 80,000 years to see the whole of the collection.

We also host an exciting programme of events including talks, musical performances, speed-dating 'mingles', after-hours exhibition openings with live performances, bar and food, DJs, and special guests.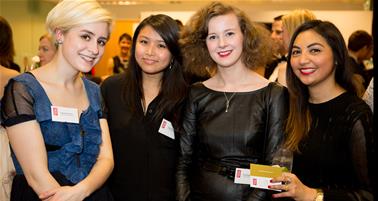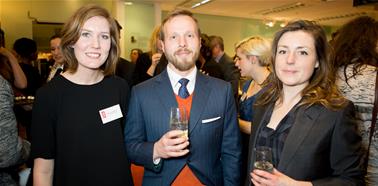 Young Patrons British Vogue Collection Show & Tell
© Luca Sage, Photography
Enjoy

You won't be shushed! Meet with friends and make new ones in a relaxed social environment. Wilde Membership benefits include:

• Private views of collections with curators
• Invitation to exclusive launch events
• Limited edition prints
• Exclusive phone and desktop wallpaper
• Complimentary tickets to talks, readings, major exhibitions and 'Late' evenings





Late at the Library: Mughal Nites and Fashion Flashback Support

We receive some of our funding through grant-in-aid, but we're also a charity. The costs of maintaining and advancing our programmes are substantial and so philanthropy is vital to the Library's future.
Join the Wilde Membership for only £41.66 per month.
For more information contact Kissley Leonor at kissley.leonor@bl.uk or +(44) 020 7412 7739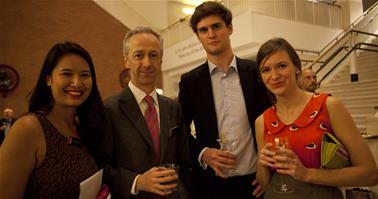 Young Patrons with British Library CEO Roly Keating at the opening of On the Road: Jack Kerouac's manuscript scroll
"I've been coming to the British Library for years but it's often the activities that go on outside the reading rooms that are quite the draw!
Whether it be exhibitions or author talks, late-night viewings or a musical interlude over lunch, being involved with the British Library is a great way to meet likeminded people who share the same interests. I would heartily encourage young people to join!"
- Naomi Wood, British Library Young Patrons Ambassador and author of acclaimed novel The Godless Boys





"Having just arrived in London from the United States, I came to the British Library hoping to learn more about British literature. Instead, I found an institution dedicated to education about every imaginable topic.
Its vast resources for research, wonderful exhibits on display, and dedication to learning for all, from children to artists to entrepreneurs, contribute incredibly to the preservation and enhancement of our culture, and being a Young Patron lets me be a part of that mission." - Winston





"The Atelier is so close to the British Library and it's wonderful that I can visit so easily to get inspiration or advice from them. The Library is always so supportive of me and my venture." - Fashion designer Lucy Tammam
Lucy used the Library's Business & IP Centre. Find out how you can start your own business here.


Hear from Jamie Hewlett (Gorillaz) and the House of Illustration about what inspires them!